Activ Technologies Recognized as Solution Provider Award Winner for Digital Transformation
NextGen Supply Chain Conference and Supply Chain Management Review selected Activ Technologies, Inc. for the 2021 award based on the supply chain and logistics transformation project with HP Inc. in Latin America.
ATLANTA, NOVEMBER 3, 2021
Activ Technologies, Inc., offering a cloud-based platform-as-a-service (PaaS) supporting the digital transformation of the supply chain, today announced its recognition as the 2021 NextGen Solution Provider for Digital Transformation Award winner.
Leveraging its platform, ActiVate®, Activ showcased digital transformation for end-to-end supply chain management and execution. The award submission highlights the HP Inc. project to demonstrate key components of supply chain transformation that standardize processes and gain efficiencies while realizing cost savings. The process and efficiency gains are well recognized benefits of using ActiVate. Customers ranging from SMBs to Fortune 500s readily leverage the platform technologies without requiring IT resources or incurring development costs.
HP Inc. logistics operations in Latin America wanted to standardize and automate repetitive manual processes and increase efficiencies by integrating inbound orders and operational activities into a single platform. Activ's platform, ActiVate, enables the HP logistics team to achieve digital transformation and provides a single point of view for all inbound orders across all modes and service providers. The project includes collaboration and coordination with key third party logistics (3PLs), freight forwarders and transportation service providers, transporting goods out of Asia into Panama or the U.S. and on to Central and South America through multimodal routes. The connection of multiple systems into a single point of view allowed visibility and supported HP's Latin America logistics team's multiple initiatives including receipt management, cross-dock versus putaway capabilities, container prioritization, overages and shortages, and claims and damage management.
"By connecting and integrating our inbound orders and activities into a single platform, we realized significant operational efficiencies, as well as time and cost savings while providing accessibility throughout 36 plus countries," stated Ernesto Kirsch, with HP LATAM logistics. He added, "we're very happy for all the support that we're getting from Activ. It's great support!"
"This is the third year for the NextGen Supply Chain awards," said Bob Trebilcock, editorial director of Supply Chain Management Review. Trebilcock added that the awards are merit based, and recognize supply chain professionals and solution providers who are moving technology forward. "Early adopters and first movers win in the marketplace," he said. "We hope their stories will encourage other companies to follow their example."
NextGen Supply Chain is an educational conference for senior supply chain management professionals and is the premier supply chain event owned and operated by Peerless Media, LLC., publisher of Supply Chain Management Review. The Next Gen conference addresses the digital future by bringing leaders together to focus on emerging technologies and allows solution providers to share the advances in artificial intelligence (AI), robotics, Internet of Things, Big Data, and predictive analytics, supply chain and logistics transformation, and other technologies.
"The Activ team is pleased to be recognized as a digital transformation winner," exclaimed Jaymie Forrest, President & CEO of Activ Technologies, "we applaud those pioneers investing in emerging technologies to create responsive supply chains prepared to meet today's requirements with agility, flexibility and efficient scale." She added, "leveraging ActiVate to support many supply chain and logistics application SaaS models all in one platform allows our clients to leverage the breadth and depth of functionality to deliver on the initiatives and goals of their specific digital transformation journey and realize the many benefits from their effort."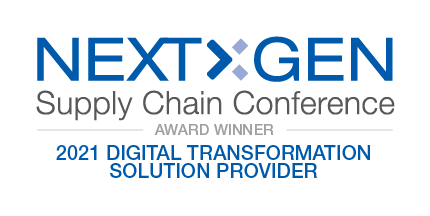 Want to See It in Action?
Empowering Digital Supply Chains