Latest in Digital Supply Chain Management
Companies are boosting performance with digital transformation of their supply chain. Check out these industry articles, presentations and more addressing digital transformation of the supply chain.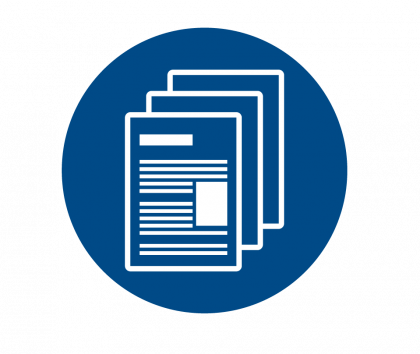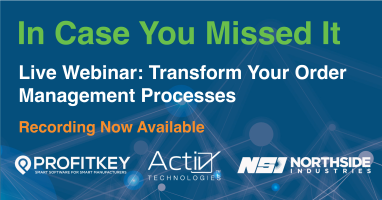 Learn how to provide better customer service, increase your operational efficiencies, and reduce your order management costs with ProfitKey + ActiVate®. 
Hear a ProfitKey customer case study directly from Northside Industries' Mark Burleigh on their achievements using ActiVate® along with ProfitKey.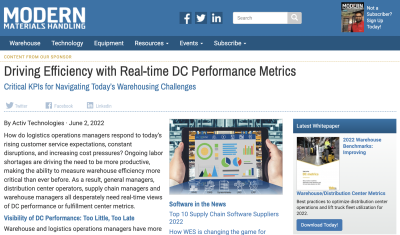 Critical KPIs for Navigating Today's Warehousing Challenges
Activ Technologies addresses the lack of real-time visibility to DC performance and operations data and the resulting inefficiencies. Activ speaks about what a real-time view of DC performance metrics looks like for warehouse managers and the resulting benefits.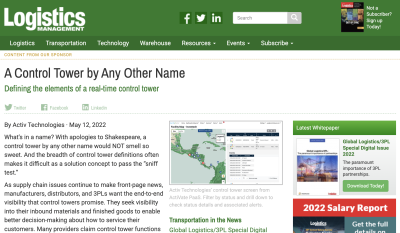 Defining the Elements of a Real-time Control Tower
Active Technologies delineates specific characteristics and functions of a supply chain control tower amid the breadth of control tower definitions presented in the market.
Activ Technologies and JM Industrial Supply showcase real-world results in digital transformation and multi-tier supplier collaboration to support JM Industrial Supply's OEM customers. Using the ActiVate® platform, JMIS supports its primary customer, Caterpillar, and grows its collaboration capabilities.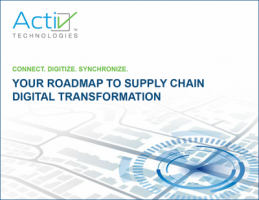 Identify your starting point. Check out the possible destinations. Note the benefits you gain. See the obstacles along the way.
Request the eBook and join the tour.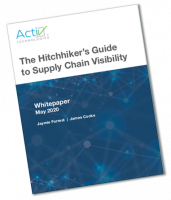 What is the solution for achieving supply chain visibility? Read the whitepaper to gain insight in how to respond quickly to unfolding world or marketplace events.

DIGITIZATION, SUPPLY CHAIN, TRANSPORTATION AND LOGISTICS | 03 JUNE 2020
Resilient Supply Chains and the Technology Behind Them
"The COVID-19 pandemic has created chaos in supply chains, exposing the value in having agile, resilient supply chain management. Supply chains are currently operating below capacity and drops in revenue have hindered investments in innovation in many cases. However, this crisis has spurred interest in  digitalized solutions and this will likely be a significant area of investment in the coming years."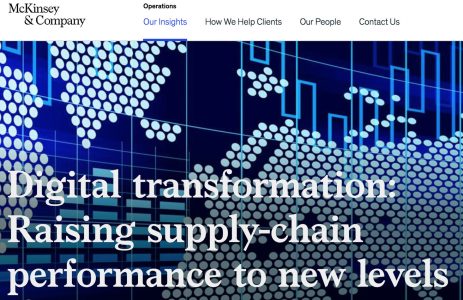 A recent McKinsey study found that the average supply chain has a digitization level of 43%, the lowest of five business areas that were examined.
The same McKinsey research suggests that, on average, companies that aggressively digitize their supply chains can expect to boost annual growth of earnings before interest and taxes by 3.2%—the largest increase from digitizing any business area—and annual revenue growth by 2.3%.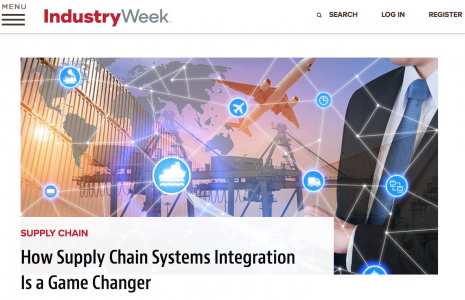 Effective supply chain management in manufacturing is essential for collaboration and coordination, as well as efficient business practices.
In today's increasingly complex and digitally driven supply chain, where competitive advantage can quickly evaporate and on-time practically means yesterday, smart integration is essential to stay competitive. Industry Week shares some ways to use integration to boost productivity and effectiveness.

Digitize, Visualize, Synchronize:
A Conversation with Activ Technologies & Valentine Solutions
Supply Chain Now Radio: Episode 135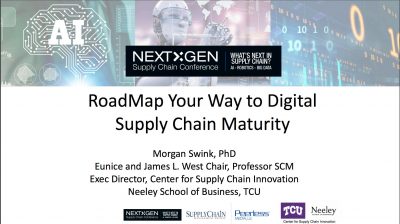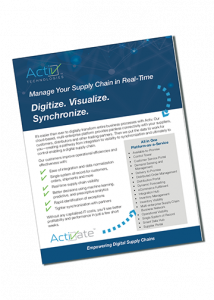 Digitize, Visualize and Synchronize with ActiVate's Cloud-based Integration
Want to see real-time supply chain management in action?
Empowering Digital Supply Chains