Activ Technologies Expands PaaS Offering and Enhances Key Operational Visibility and Reporting
Enhanced platform includes additional supply chain visibility features and claims management functionality with end-to-end analytics
ATLANTA, DECEMBER 14, 2020
Activ Technologies, offers a cloud-based platform-as-a-service (PaaS) supporting the digital transformation of the supply chain, announced its latest platform enhancements to expand a full breadth of capabilities and automation for integration, visibility, management and control. The PaaS platform, ActiVate®, offers a many-to-many business network providing a holistic supply chain view to enable operational visibility and reporting to full control tower capabilities incorporating end-to-end supply chain functions. ActiVate is agnostic to data protocols and formats and offers a library of pre-built data connectors allowing companies to send and receive information easily through a single platform as a service.
Expanded features to ActiVate's visibility and control tower platform includes descriptive and predictive analytics complemented with an embedded report writer for ad hoc and self-reporting. Additionally, Activ Technologies recently added claims management functionality and end-to-end analytics for claims processing in real-time at any point along the supply chain.
"We are excited to be working with Activ Technologies to help us reach our goals of moving our LATAM operations to the next level," states Ana Maria Rueda with HP Inc. "The ActiVate platform allows us to standardize our processes across the region, reduce manual labor, improve the movement of goods out of ports on time including cross-dock vs. putaway capabilities with overall improved supply chain efficiencies." She expanded, "ActiVate provides integration of all modes of inbound orders and operational activities in a single platform supporting the digital transformation initiatives we have with DHL and other trading partners. We are expanding our efficiencies. In addition to providing a single view for supply chain operations and access for multiple service providers, HP Inc. standardized claims management processing across the region."
In the recent Gartner Insights: Supply Chain Digital Transformation, Gartner recommends to "start leveraging digital technologies to increase business performance by building a supply chain digital transformation roadmap that addresses both short-term improvements and a strategic long-term vision."
Whether replacing expensive EDI (electronic data interchange), integrating disparate systems for a single system of record, cleansing and normalizing data, ActiVate provides a path for any company to begin their digital transformation journey. Functions include end-to-end visibility, managing a digital supply chain, operating a control tower, extending a single view for existing internal systems as well as collaborating with trading partners by leveraging rules-based, alert-driven messaging, dashboards and reporting features.
ActiVate maintains its unique position of longevity in the market as the first (June 2012) native cloud supply chain integration and visibility platform. Key differentiations establish ActiVate's competitive qualifications through offering a real-time, many to many, multi-enterprise business network that delivers full capability to manage and control orders, inventory, and shipments all in one platform.
"Activ serves companies that range in size and sophistication from SMBs to Fortune 50s with or without IT resources," says Garland Duvall, CTO of Activ Technologies. "Activ engages and brings value quickly while absorbing all integration costs, making it the most affordable real-time visibility PaaS platform available for a monthly operating expense rather than an expensive and time-consuming capital IT project."
Damian Burke, who recently joined as VP of Sales adds, "COVID and every day common events inflict ever-increasing disruptions on today's supply chains forcing companies to seek better ways to manage supply and demand in real time. Activ Technologies' answer to these challenges is a central repository, a single version of the truth across multiple disparate systems, which delivers on our mission to help companies see, control, manage and improve performance."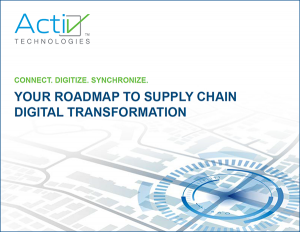 Want to See It in Action?
Empowering Digital Supply Chains